The
13
th
NEW
Harpoon scenario of the year!
August Storm
A Harpoon Commander's Edition scenario for the Westpac battleset.
At the conclusion of World War II, the Soviet Union annexed the sparsely populated islands of the Kuril archipelago, a region they had seized and occupied during an offensive undertaken in the closing days of the war. The peace treaty made between Tokyo and the allies underlined Japan's loss of the territory, but it did not reinforce the Soviet claim. The sovereignty dispute over the Kurils has continued to simmer for decades, and now looks to boil over with the Russians making moves reminiscent of the Manchurian Offensive.
Author: Brad Leyte
http://tinyurl.com/4ebm73r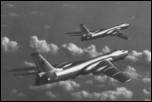 FilesOfScenShare