hermanhum
Matrix Hero







Posts: 295
Joined: 9/21/2005
Status:

online

First of all, I'm sorry if this was late coming: I agreed with TMC that this debate is causing more damage than good to the game, and for this reason I asked permission from Matrix administration before making a reply. What follows will not degenerate in personal attacks - which of course is what I was asked to avoid :)

After examining all the "evidence" (for the lack of a better word) presented on the forum in these last days, I understand that this accusation of "plagiarism" stems from a single observation: some platforms are placed in the same position in the two databases and share the same ID number. Obviously, this is true.

There is a simple reason for this. Erratic and Unannounced Changes within the Db2k format had, in the past, threatened great instability for any scenario dependant upon it. Therefore, it was decided to find an alternative database that would be more stable. When the PlayersDB was being drafted, there were a lot of pre-existing scenarios originally written for the DB2k that needed to be converted to the PlayersDB.

When a scenario is built, the various units within the scenario file are assigned an address / ID number from the database. This is how it finds the various aircraft, ships, and sub units within the database. If a scenario is built with airplane #300, then there must be an Airplane #300 in the DB or it will crash (this is, BTW, the reason why DB2k was causing scenario writers problems; as extensively documented on StrategyZoneOnline).

So, when there was a need for Airplane #300 (if it was a Hornet), we found a Hornet somewhere in the HUD-II / H3DB / HCDB (it might have been #100) and cloned / modified it to #300 in the PlayersDB. This was done to make the database compatible with the scenario (usually, you make a database and then the scenarios, but in this case, we pretty much worked backwards!)

Take the following examples from the PlayersDB: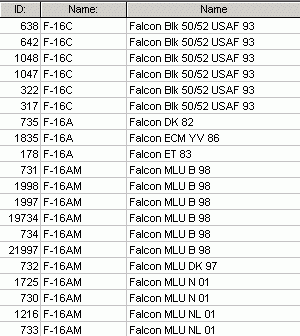 One can see for oneself that there are MANY clones of the same plane. In fact, this is already explicitly noted in the PlayersDB ReadMe file with:


"If two entries have the same name,
They are the same plane/ship/sub."


Would you also believe that every F-16AM listed above is actually the SAME plane? Not 'similar', not close, but CLONE.

Sorry for those trying, but all I can see here is a lot of hot air and ruckus (followed by serious accusations):

Not about intellectual property (since all weapons performance and other extrapolations are from HCDB/HUD/H3Db and has been proven, without a shadow of doubt, HERE) and, of course,

Not about the fact that both DBs – surprise! - list factual data about platforms existing in the real world.

No: the explicit accusation of plagiarism stems from the way platforms are ***placed*** inside a database for technical purposes.

I would like to add my two cents about the whole matter:

It is claimed that the PlayersDB appeared overnight. This is true: when the project was started, no details were leaked until it was ready for publication. The only hint that an alternative Database was in the works was the public announcement on March 20, 2005, by the H3DB group. Considerable work had already been accomplished by then. This shows how these accusations are have been made to work: make an arbitrary assumption, brand it as "fact", and build from there.

Other databases claim to be "used by professionals". Good for them: the aim of the H3DB / HUD-II / PlayersDB was to provide the Harpoon community with alternative views to the inner workings of modern naval warfare by creating a database that allowed for different weapon performances, doctrines, and behaviours within the game. Of course, any database reflects only the view of its editors and this is why there are so many databases in circulation. This is also why the PlayersDB is original.

A lot of whining has been raised regarding "respect for third-party work". However, as everyone can see for themselves with just a glance at the "evidence" exposed here, a lot of very hard and original work went into assessing the performance for weapons, sensors, and platforms. This work was done by:


HCDB [Edited by Brad Leyte],
HUD-II [Edited by Darren Buckley],
H3DB [Edited by Fred Galano], and
HC-Euro-DB [Edited by Rene Haar]


The PlayersDB stands on the shoulders of these editors, as recognized in its credits. The 17,000 current PlayersDB entries are founded on data from these excellent works. No sign of respect for this work has been shown by the accusers.

I will not "connect the dots" myself. Nor, will I speculate about why someone is, once again, whining for "justice and respect for all" yet, in the same breath, diffusing allegations and even serious accusations about anyone who is not *Himself* or from his site. My only real hope is that the intelligence, open-mindedness, and past experience of the Matrix community, constantly shown in all these gaming fora, will allow for this childish and damaging behaviour to be put to rest once and for all – at least here. And, that in the future, the energies wasted in this futile debate will be put to better use in creating scenarios and databases - for all the community to enjoy and to help the game thrive.